The Band
Geoff Cripps (Guitar, bass, bouzouki, vocals)
A native of Pontllanfraith Geoff had piano lessons from his mother from a very young age in a house where music was dearly loved. His interest in folk music was awakened by his school's folk club (very broad church) and then developed further by discovering his university hall of residence had a folk club and he was asked to play. In the 1970s and 1980s he organised and played weekly at first Newbridge and then Islwyn folk clubs and was soon in his first band The Chartists. This political folk rock band released two albums in the '80s and Geoff also developed a musical partnership with Louisa Rugg releasing their sole album "Icarus" in 1985 – seek it out on Ebay! His interest in the traditional music of Wales also properly began in the 1980s and was further developed when he was presenting "Folk On Monday" for BBC Radio Wales in that decade. Geoff became first development director of TRAC – the Welsh traditional music development agency in 2001. Together with Linda, Kate and Chris he is a founder member of Allan Yn Y Fan. His favourite Allan Yn Y Fan moments include performing at the Chichester Festival Theatre, touring to the Czech Republic and Germany and appearing at great festivals such as Celtic Connections, Village Pump, Beverley and Bromyard.
Alan Cooper (Fiddle)
Alan hails originally from Tintwistle, a little village that used to be in Cheshire but for some reason is now in Derbyshire. His musical journey began with classical violin but he started playing folk style fiddle from his early 20s. He has made music with Juice, another of Wales' leading twmpath bands, and also toured internationally in a variety of settings. More recently he has been working in a duo format with Dan James with whom he regularly tours Brittany. Alan has his own home studio and the fruits of AYYF's work there will soon be heard by promoters everywhere!
Chris Jones (Accordion, flute, low D whistle, vocals)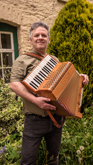 Raised in Gilwern near Abergavenny Chris' became interested in music from an early age. He learned to play classical flute in Brynmawr Comprehensive where he was asked to join Brynmawr Welsh Folk Dance team as a musician. This is where his interest in the folk arts commenced. Whilst playing for the dance group he realised that they needed an accordionist so he taught himself to play the Piano Accordion. During this time he set up a twmpath band Taro Tant which included musicians from the dance team. The dance group introduced him to welsh clog dancing and was taught by the great welsh clog dancer Huw Williams. Chris competed as a solo clog dancer and in a clogging team at the National Eisteddfod. You may see Chris clog in one of Allan Yn Y Fan's concerts. Chris was one of the founder members of Allan Yn Y Fan. Chris composes many of the band's original tunes and does all the geeky behind the scenes web-master stuff!
Catrin O'Neill (Lead vocal, guitar, guitarlele, bodhran, percussion)
From Aberdyfi in Southern Snowdonia ( thus single-handedly demolishing the "supposed" north-south divide in Wales!), Catrin was introduced the magical storehouse of Wales' traditional songs by her Nain (Grandmother) – as reflected in her solo album "Cegin Nain / Nain's Kitchen". Catrin spent many years traveling, living and playing abroad, whilst attempting to introduce everyone she met to the joys of Welsh folk music. Upon her return home to Wales in 2007, she became part of a successful folk trio with Chris Knowles (harp) and Mike Lease (fiddle). The influence of her Irish ancestry and love of Breton dance and its music, can clearly be heard in her performances. However it is in the Welsh music that her true passion lies. More recently she has become a member of the highly successful Trac project "10 Mewn Bws/10 in a bus." which caused a great commotion in Welsh music circles and was nominated for a National Lottery award in 2014. Catrin is looking forward to bringing the music and songs of Wales to new audiences with her adventures in Allan Yn Y Fan.
Linda Simmonds (Mandolin, mandola, bodhran, vocals)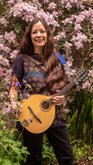 Like Geoff, Linda also grew up in Pontllanfraith. Developing an early interest in music via Sunday lunchtime listening to "Two Way Family Favourites" and "Singing Together", the BBC Radio programme for schools, Linda was encouraged by her parents to take piano lessons. At school she sang with the choir and operatic society and, after becoming interested in folk music, turned from keys to strings and bought a guitar. Linda has been involved in the organising and running of folk clubs and folk festivals and it was through these that she became interested in playing other instruments, resulting in her taking up the mandolin and bodhran. Along with Kate and Geoff Linda worked at Garden Festival Wales. It was there Kate invited Chris to perform at several GFW events and it wasn't much longer before the four began to play together and Allan Yn Y Fan was born.
Kate Strudwick (Flute, alto-flute, recorders, whistles, vocal)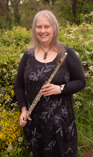 Kate was born in Wales then raised in other locations around the UK, eventually returning to South Wales as a student and has never looked back. Learning Lisa Lan during a "Singing Together" session at primary school awakened a life-long interest in the Welsh folk repertoire. Having graduated to playing flute and whistles, Kate later rediscovered the joys of the recorder, making it one of the distinctive sounds of Allan yn y Fan. In 1990 she joined Garden Festival Wales to manage the music programme, met Linda, Geoff..... and the rest is history. Kate regularly delivers woodwind workshops for CLERA, encouraging people of all ages to play Welsh traditional music and has set up the weekly Celtic Café family music sessions in Blaenafon. Along with Chris, Kate is responsible for much of the band's original compositions, specialising in haunting slow airs.